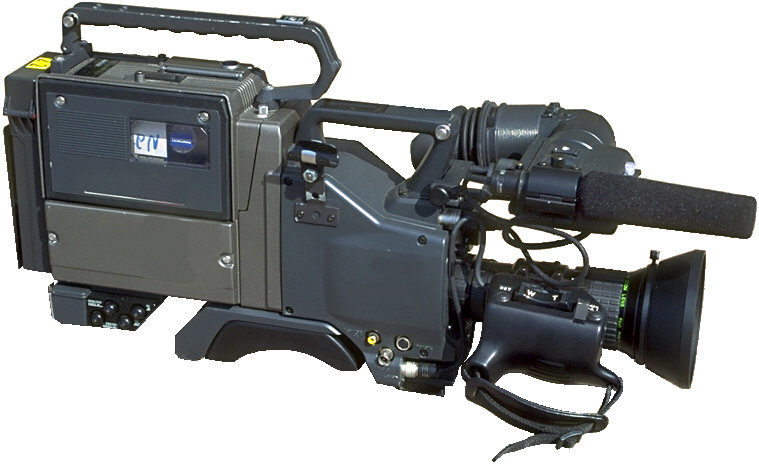 2003 Cuba Expedition


WORLD RECORD BREAKING EVENT

"I just remembered the captain saying if anyone ever got lost out there  that they would never be able to find you. "    2002 Expedition  


KELLY HELT, 25 , High school teacher, lifeguard, paddleboarder, surfer


            "It was so scary to watch, let alone paddle; storms and lightning then she got far away from the boat; she couldn't hear us and we couldn't see if she was on the board.  I kept hitting her with the spotlight but couldnt keep it on her as it attracted sharks. "   APRIL NOON, 26, Lifeguard, Swim Coach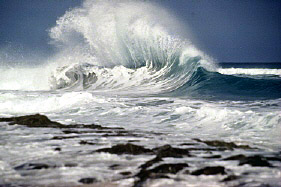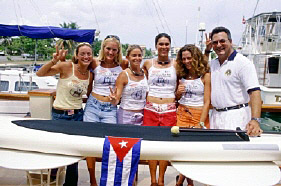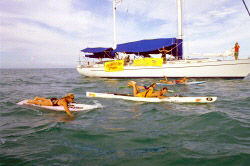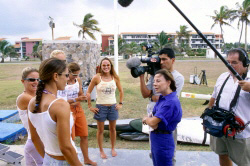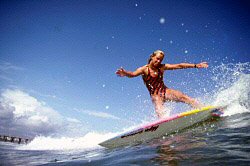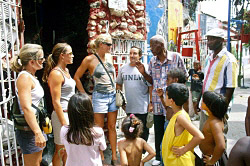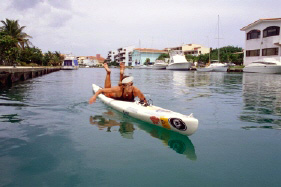 2002  Event paddler posing for Press in Marina Hemingway 
The teams will rely on a full moon, stars, compass, and a satellite positioning system (GPS) for navigation. They will be accompanied by chase boats and support crew on a 86 foot yacht, Princess Sterling" , owned by sponsor and water-sports enthusiast, Ron Rice, president of Hawaiian Tropic, and a 40 foot scuba dive vessel from Ft. Lauderdale sponsored by nightclub Bikini Bobs.

The conditions will not be favorable. The teams will have to paddle against prevailing East trade winds and across two branches or "rivers" of the Gulf Stream. They will then have to fight strong currents and tides as they approach the Florida Keys. Expected weather conditions include extreme heat, thunderstorms, and possibly hurricanes. They will also be crossing areas that are shark-infested. 


Their journey begins at the Hemingway Marina, 12 miles west of Havana and ends at the scheduled touch point in Key West at Fort Zachary Taylor. When the journey is complete, they will take a celebratory paddle past Mallory Square and into Historic Harbor.

The journey will be photographed and filmed by independent producer Paul Prewitt, a veteran cameraman who specializes in water sports. Prewitt is producing a television documentary on the trip shooting with two camera crews in HDTV and 16mm film. ""Both vessels are outfitted with satellite phones so we can send reports and Press Releases to radio and TV stations and news organizations",  he adds. "Last year the press followed the event enthusiastically."


The sport of paddleboarding was first developed in the 1920's. Pioneering surfers Tom Blake and Duke Kuhanomoku popularized the boards in the Hawaiian Islands with the American Red Cross as lifesaving devices. Some claim the Paddleboard is the precursor to the modern surfboard.


The sport of paddleboarding involves a sleek, fiberglass board, which is a cross between a surfboard and a kayak. Paddlers lie prone, or in a position up on their knees and use only hands and arms as propulsion devices.
The event departs Key West July 8th and begins the return paddle July 13th-14th according to weather.

"For months, we paddled three days a week at 6:30 a.m.," Helt said.

"Every morning we got to see the sun rise over the ocean. I never once regretted having to wake up early for the  view and morning workout."

The men's team is equally strong and diverse. The 2003 team members include Brian Theiss, 27, Boca Raton, Fl.;  Wade Rickerson, 31, Pompano Beach, Fl.; Victor Fox, 27, Hollywood Fl.; and Joe D'Agostino, 28, Hollywood,  Florida. The men have called the trip an opportunity of a lifetime.

Only two all-male teams have previously completed the trip. In 2000, a four-man team completed a 105-mile  journey in 19:19 hours. In 2001, a four-man team completed the 112-mile journey from Havana to Key West in  20:02 hours.

Event director, TV documentary filmmaker and avid water-sports athlete Paul Prewitt explains, "This annual event  allows American athletes a chance to test their abilities, fortitude, bravery and endurance by paddling with their  hands across the Gulf Stream. The expedition also showcases the camaraderie between the Cuban and American  people who participate in ocean and water-sports as well as the positive cultural exchanges taking place  between the U.S. and Cuba. He adds,

"The challenge of four women crossing this dangerous and difficult body of water is a testament to the spirit and  heart of women today." 

Three of this years four-woman team attempted the 112 mile crossing last July 2002 butwere forced to abandon  their attempt at 3 AM during severe lightning storms, high winds and turbulent seas. They were approximately 50  miles from Florida.

The women have regrouped and recommitted to attempting the race again this year withtwo new members,  including an alternate.  The 2003 team includes: Michelle Davidson, 33, of Ocean Grove New Jersey; Kelly Jo Helt,  27, of Deerfield Beach, Fl.; Tracie Moll, 39,of Ft. Lauderdale, Fl.; Christine McGrady, 30, Ft. Lauderdale, Fl.,  April  Noon, 24, Deerfield Beach, Florida.

For this team of accomplished female athletes, the paddleboard event means more than just a world record  attempt. They are also determined to bring awareness to women's abilities to accomplish whatever it is they  dream. The training, discipline and commitment exemplified by this women's team is a perfect metaphor for  showing women's achievements on all levels.

Their hard work and determination to complete this race displays what is often needed to overcome the many  hardships and obstacles that women face in everyday life as well. The women's team members have diverse  athletic and professional backgrounds. Their accomplishments include being a former National Champion  Lifeguard-International IronWoman and Marathon swimmer (Davidson), World champion of Basic Life Support -  International Medical Services Championships (McCrady) and U.S. swimming 50 meter freestyle record holder for  her age (Moll). 

In spite of their natural athletic abilities, the women have trained extensively for this event and say they have  dedicated themselves to completing the trip. Two of the women are High School teachers (Davidson, Helt), one is  a professional firefighter (McCrady), and the others are professional ocean lifeguards and swim coaches.

Eight U.S. Paddleboarders Attempt to set 112 mile World Record from Cuba to Florida

FORT LAUDERDALE, Fla. Two U.S. teams, a four-women team and a four-man team, will attempt to set two long  distance paddleboarding records by crossing the treacherous shark-infested 112-mile ocean route from Havana,  Cuba to Key West, Florida, July 12-13th. 

The expedition, "HAVANA TO KEY WEST-GULFSTREAM CHALLENGE" is in its 2nd year and isplanned as an annual  event. In addition to the paddleboard record attempt, this event encourages goodwill and promotes unity and  interaction between the US and Cuba through ocean sports.